Set up your payment methods
Set up the payment methods that you want to offer to your customers.
To accept payments, you have to configure the payment methods, which you've contractually agreed to with Unzer.
Now you can configure the individual payment methods. Expand the payment method that you want to configure. The options available vary for each payment method. For example, for card payment method, it can contain the following details.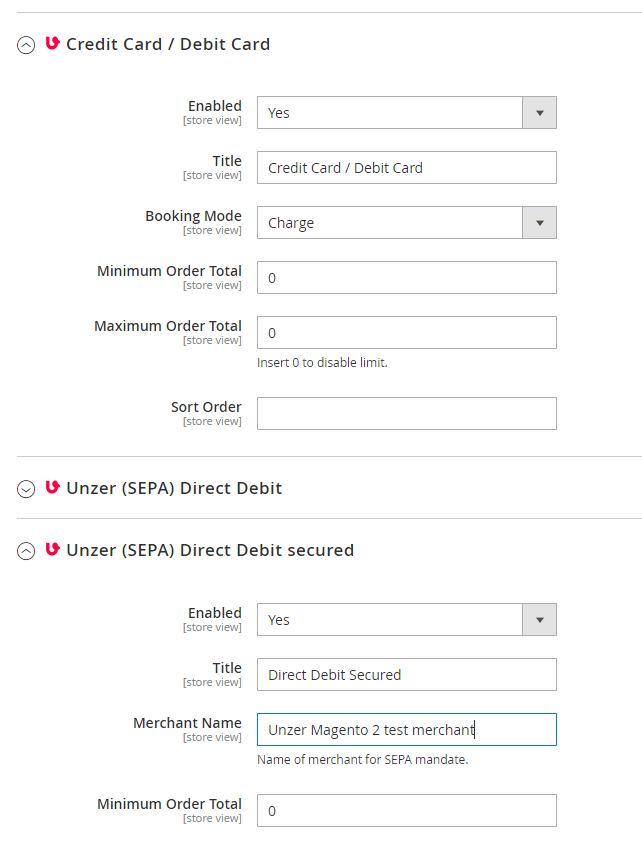 Field name
Description
Enabled
Set this to Yes to offer it to your customers at the time of checkout. This activates the respective payment method in the store.
Title
Enter the name of the payment method as it is displayed in the store and in emails.
For multiple Store Views with different languages, you can use this field to translate the payment type names.
The default value will be automatically translated to German if the store uses a German locale.
And translation files can be used to change/add translations.
Booking Mode
Configure the booking mode for the payment methods Credit cards, Debit Cards, and PayPal.
Available modes are:

Debit (Direct Charge)
The order amount is charged immediately.

Authorize
The order amount is reserved at first and captured later when the invoice is created.
Sort Order
Enter the order in which payment methods are displayed in the store.
Minimum Order Total
Enter the amount that your customers order for the payment method if the order total is in this range. To deactivate a limit, set 0 value.
Maximum Order Total
Enter the maximum amount that your customers can select the payment method if the order total is in this range. To deactivate a limit, set 0 value.
Merchant Name
This determines the merchant name displayed in the direct debit mandate for the respective payment method.